Pack Leader Training DVD
"Hi, I'm Vic Barlow. (If you follow my training column in the newspaper, I am The Dogfather).
My life mission is to improve the relationship between owners and their dogs. With obedience classes, Home Assessment visits, and rehabilitation work I train over 200 dogs each year.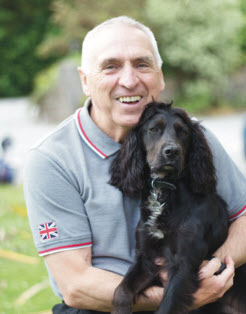 From Rottweilers to Chihuahuas, every dog teaches me something new.

It's a never-ending journey of discovery.

During this DVD I will demonstrate how to take control and become your dog's natural Leader.
I promise you will be fascinated.
You will see just how quickly dogs change their behaviour in the presence of a Leader.
Calmness and obedience replace excitement and defiance improving your relationship in ways you never imagined.
I can usually transform a dog's behaviour in a couple of hours and so can you.
It's not magic it's Leadership ....
Enjoy ......
Leadership
Pack Leader Training Video
£5.00
including postage to United Kingdom
Buy now using your credit card and our secure online server at NoChex - just click the button below and following the instructions.


Nochex Merchant Account
OR - pay by cheque
Please send your cheque for £20 made payable to V.Barlow to :-

217, Blakelow Road
Macclesfield
Cheshire SK11 7EF

Please enclose your name and address